After the removal and installation of a complete E&E shelf, due to a modification or other maintenance activity, all installed units must be tested because the applicable systems where disturbed due to the removal/installation of the computer and the dis/connection shelf electrical plugs to the a/c systems. But the modification orders or service bulletins never give you a good overview of all these tests, and you have to figure out yourself what to test on what unit. For this reason a very handy overview is made to see very quickly what to test and in which amm chapter this test is described.  Also the cockpit panels P1, P2, P3, P5, P8 and P9 installed units are described with their respective tests.
Note that this overview was made for a particular airline with that particular E&E shelf layout and cockpit layout. Nevertheless it might be very handy to look for the units on the shelf or P panels and to quickly find the correct ata chapter or amm reference. Again, it is uncontrolled data and for information only !
The overview was made by some very enthousiastic coworkers and all credits go to them for their research and effort, resulting in this overview, which is used internally in the company under the Maintenance Xperience program called Avionet. Click on the picture to see the large PDF version which you can save or print to use.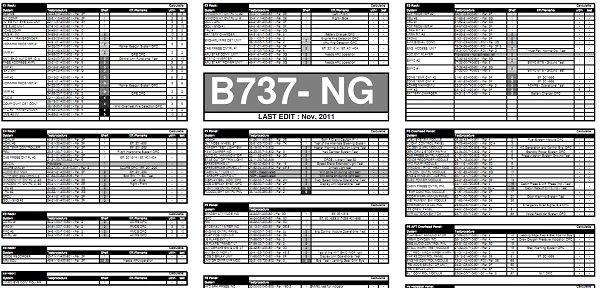 > FOR INFORMATION ONLY. UNCONTROLLED DATA !.