The following story about the accompanying photo was submitted by Fraser Maclean, B737 Fleet Systems Specialist, Air Canada. From Aviation Safety Maintainer issue 2/2001.
According to the story, the B737 was being positioned for departure when an alert technician observed a starling departing the ram air inlet. Upon further investigation, he located this large nest in the air-conditioning ram air inlet. The nest was composed of corn, cedar and other debris that filled half a garbage bag when removed. This material was put there in less than 36 hr. while the aircraft was parked at the Ottawa airport and would have certainly caused temperature control problems with the air-conditioning pack if the aircraft had gone flying in that condition. This happened in the spring of 2000; at the time, everyone was surprised to see the large amount of material that had been packed into the inlet in such a short period. This illustrates that vigilance pays off. Although birds' nests are expected where extended storage is involved, they can and do infiltrate aircraft on the flight line.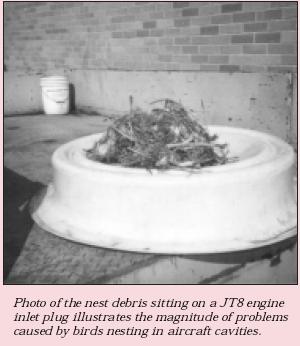 > FOR INFORMATION ONLY. UNCONTROLLED DATA !.