More than once the APU fire extinguisher bottle was activated spontaniously, without any fire-handles pulled or automated fire extinguishing actions taken place. It even happened without any electrical power applied to the aircraft !
Troubleshooting revealed 25-28 volt was present at pin 3 and 4 of plug D594 on the APU bottle squib, even with elec power removed from the a/c.
Further troubleshooting led us to the plug on the remote APU fire control panel in the wheel well, plug D48080. This plug was corroded internally causing a short between several pins, causing hot battery elec power going directly to the APU bottle squib.
Despite wheel well connector inspections and corrosion preventive actions, this plug is vulnerable to corrosion due to the un-friendly environment of that location.
So next time you have a spontaniously activated APU fire bottle, check out this plug first. See picture for location of this plug.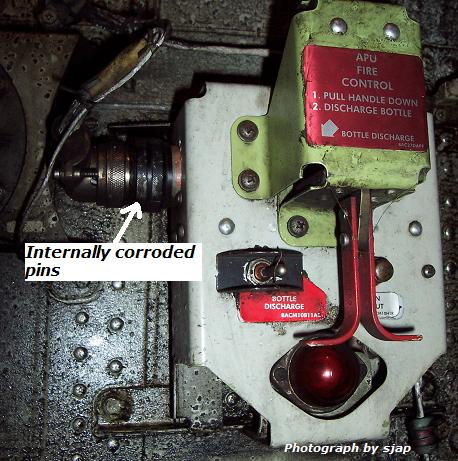 > FOR INFORMATION ONLY. UNCONTROLLED DATA !.